Who We Are
Hong Leong Insurance (Asia) Limited ("HLIA") was established in Hong Kong in 1973 and is an Authorized Insurer registered with the Office of the Commissioner of Insurance (Registration No.: 32621). We offer a wide range of general insurance products, including personal, commercial and corporate insurance, to meet the needs of individual, corporate and industrial clients. HLIA's mission is to become the leading provider of personal insurance delivering first class services to its customers. Indeed, our pledge of high-quality services outstrips many competitors in the market.
Our Story
HLIA is an indirect wholly-owned subsidiary of Hong Leong Financial Group Berhad ("HLFG"), a public listed company in Malaysia. Incorporated in 1968, HLFG has evolved and grown in size and strength into an integrated financial services group through sound and focused business strategies aided by strong management and financial disciplines.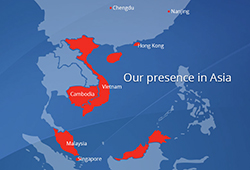 HLFG's main subsidiaries comprise: 1) Hong Leong Bank Berhad (listed in Malaysia) which provides comprehensive services in personal financial services, treasury, corporate and commercial banking in Malaysia and with overseas subsidiaries/branches in Singapore, Hong Kong, Vietnam and Cambodia; 2) Hong Leong Islamic Bank Berhad which focuses on Syariah-compliant commercial banking, Islamic wholesale and investment banking as well as Islamic wealth management; 3) HLA Holdings Sdn Bhd ("HLA"), via its subsidiaries namely Hong Leong Assurance Berhad, Hong Leong MSIG Takaful Berhad, HLIA and HL Assurance Pte. Ltd, and its associate, MSIG Insurance (Malaysia) Berhad, which provides life, general and, takaful insurance services in Malaysia, Hong Kong and Singapore; and 4) Hong Leong Capital Berhad (formerly known as "HLG Capital Berhad") (listed in Malaysia) which provides investment banking, stockbroking, futures broking, asset management and unit trust services via its subsidiaries, Hong Leong Investment Bank Berhad and Hong Leong Asset Management Berhad.
Why Choose Hong Leong Insurance (Asia)?
Excellent Rating
HLIA is rated "A-"(excellent) by A.M. Best Company, the world's oldest and most authoritative insurance rating source. A.M. Best Company's description of "A-" (Excellent): A rating assigned to companies which have, in balance, excellent financial strength, operating performance, and market profile when compared to the standards established by A.M. Best Company. These companies, in their opinion, have a strong ability to meet their ongoing obligation to policyholders.
Confidence Guarantee
We possess superior financial strength, prudent risk management, and strong parental support from HLA. All these convey full confidence to our customers and business associates. Being a customer-oriented insurance company in Hong Kong, HLIA is committed to excellence in service.
Comprehensive Service
Digitalization in insurance application and claim provides paperless and unmanned operation including online and mobile applications progressively. The customer service center delivers high-quality pre-sales and after-sales services. No intermediary arrangement offers you an affordable premium for your comprehensive protections. Member zone is set up for members to view member account information and special offer anytime, anywhere.
Awards
Elite Awards 2019
Service Excellence in Insurance Award
Metro Awards for Service Excellence 2019
Service Excellence in Insurance Service
Most Valuable Services Awards in Hong Kong 2019
Most Valuable Services Award
iChoice Awards 2019
Most Popular Domestic Helper Insurance Award
The 8th Hong Kong Volunteer Award
Participation Certificate
Whiz–kids Express Weekly and Mommy's Express Weekly Parent's Choice Award 2019
Parent's Choice Award – Travel and Home Content Insurance
More Awards
Insurance Excellence Awards 2019

Excellence Travel Insurance Product Award

Economic Digest Outstanding eCommerce Excellence Award 2018

Outstanding eCommerce Excellence Award

U Magazine Travel Awards 2018

My Favourite Travel Insurance Service – Insurance Company

Hong Kong FinTech Impetus Awards 2018

Hong Kong FinTech Impetus Awards – Gold Award

White Collar's Most Favourite Brand Award 2018

Online Insurance Platform Brand Award

Hong Kong Digital Brand Awards 2018

Outstanding Online Travel Insurance Service – Finance

2018至Like Brand Award

2018至Like Travel Insurance Brand Award

Whiz–kids Express Weekly and Mommy's Express Weekly Smart Family Choice Awards 2017

Smart Family Choice Awards - Home Content Insurance

Economic Digest Outstanding eCommerce Excellence Award 2017

Outstanding eCommerce Excellence Award

Metro Awards for Service Excellence 2016

Service Excellence in Home Content Insurance

Most Valuable Services Awards in Hong Kong 2016

'Most Valuable Services Awards in Hong Kong 2016' presented by Mediazone

Flyagain.la又飛啦 ! My Favorite Travel Brand Awards 2014

My Favorite Travel Insurance

Baby Kingdom Top 10 Family Brand Awards 2013

Parents' Favorite Domestic Helper Insurance

Metroinfo Parents Beloved Brand Award 2013

Outstanding Brand for Travel Insurance

Metroinfo Parents Beloved Brand Awards 2012

Outstanding Brand for Domestic Helper Insurance | Outstanding Brand for Home Content Insurance

TVB Weekly Mother's Brand Award 2012

Domestic Helper Insurance
Social Responsibility
Hong Kong Call Centre Association Charity Run 2019
Sponsorship
Love Your Domestic Helper As Family Ceremony 2019
Sponsorship
Sowers Action Charity Golf Tournament 2019
Sponsorship
Sowers Action Charity Golf Tournament 2018
Sponsorship
Love & Care for Domestic Helpers as Family Charity Movie Program 2015
Sponsorship